Classic Motorcycle Mecca
Why we think it's worth a visit
The Collection
Invercargill's Classic Motorcycle Mecca is a collection of iconic motorbikes from all around the world. The collection includes American Bikes, European Bikes, British Bikes, Japanese Bikes, and more.
There is also a dedicated collection for Burt Munro. If you aren't familiar with Burt Munro, he's a native of Invercargill whose claim to fame is setting the world under-1000cc land speed record in 1967. Munro set the record in the Bonneville Salt Flats in the United States on his 1920 Indian Scout Special. His story sparked the inspiration for the film The World's Fastest Indian; two of the bikes used in the movie are on display at Classic Motorcycle Mecca.
The museum has several other sections dedicated to famous riders as well. John Britten is a Kiwi legend known for creating innovative bikes, and several are on loan and currently on display. They also have a section devoted to Ivan Mauger, holder of the most Speedway World Championship titles at six wins.
George Begg Bunker
A new addition opening in 2022, the George Begg Bunker is a massive 1600m2 exhibit space built specifically to house classic and legendary racing vehicles. The bunker houses iconic motorbikes from several time periods all on display in a single exhibition.
But motorbikes aren't the only thing in the George Begg Bunker. There are several other types of vehicles, including single-seater race cars designed, built, and driven by George Begg himself. There are several other race cars built by Goerge Begg, and you can see the changes and evolution of the design over the years. He was known to have built 18 single-seater cars, with 14 or 15 available to see in the bunker.
There's plenty to see, learn, and do in the bunker, which is included in the admission to Classic Motorcycle Mecca.
More to See
Along with the bikes themselves, Classic Motorcycle Mecca has more things to see too. There's a motorcycle-themed art gallery with vintage art from the 1920s and the next several decades. The art gallery is also home to the famous "La Motosacoche brevetée en tous pays", created in 1902 featuring a motorbike and famous people of the time peiord.
The museum occasionally has special events and features too. You can find them on their What's On page to find out about upcoming exhibits and special events.
There is also an online shop available where you can buy motorbike-related merchandise like Harley-Davidson Tin signs, clothing, artwork, and more.
Meccaspresso Cafe
Meccaspresso Cafe is connected to Classic Motorcycle Mecca but is also available to eat at separately without museum admission. Known for their breakfast dishes like waffles, the cafe also has a full barista coffee bar with options for hot and cold drinks.
They also have brunch including soups, Salmon Poke bowls, and a share plate, with options on many dishes for gluten, vegan, and dairy free. The cafe occasionally has specials such as cheesecake of the week you can find in-store.
Along with made-to-order meals, they also have cabinet food with items like fresh-baked scones, cheese rolls, and mousetraps as well as treats like cake slices.
Directions and Pricing
Classic Motorcycle Mecca is located at 25 Tay Street, Invercargill. There is parking available on Tay St, and it is across the street from the new mall at Invercargill Central which has 60-minutes of free parking. Standard admission to the museum is $35 for an adult and $20 per child. A family pass for 2 children and 2 adults has special pricing of $85.
They also include a local pass for unlimited visits for an entire year. This pass starts at $100 for unlimited visits in 12 months with an option to add Bill Richardson Transport World too.
Classic Motorcycle Mecca is included in the Transport World Mega Pass too. The pass includes admission to Classic Motorcycle Mecca as well as Bill Richardson Transport World and an option for either Big Dig or Big Push at Dig This Invercargill. That pass costs $295.
The Turbo Pass is another option, which is like the Mega Pass without Dig This Invercargill. It gives admission to Bill Richardson Transport World and Motorcycle Mecca. The pass cost for $60 for an adult, $30 for a child, or $150 for a family which includes 2 adults and 2 children.
---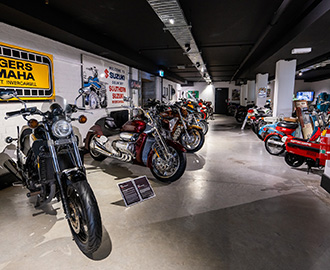 25 Tay St, City Centre, Invercargill 9810
10am - 5pm (Last Entry at 4pm)