Bill Richardson Transport World
Why we think it's worth a visit
Bill Richardson Transport World
Bill Richardson Transport World is a unique Invercargill experience you won't find anywhere else. Although the name might make it seem like it's all about vehicles, there's plenty to do and you can easily spend the good part of a day here. Part vehicle collection and part museum with a top-rated eatery, you and your family can be transported back in time for an afternoon at Bill Richardson Transport World.
Things to Do
While the vehicle collection is the main attraction, there are plenty of other things to do as well. A retro museum holds an assortment of items from years past and there are several activities for the whole family to enjoy along with an onsite restaurant.
Vehicle Collection
One of the largest vehicle collections of its kind in the world, there are over 300 vintage vehicles in the vehicle collection. Some vintage treasures include some of the very first Ford "Letter" cars, including some that are over 100 years old and still in excellent condition.
Some highlights include a 1940 Texaco Tanker, a Volkswagon Display, and a variety of large trucks. The classic car collection includes many different makes and models spanning the decades. If you enjoy classic cars, this is a must see!
Museum
Along with the car collection, there are many other exhibits to see at Bill Richardson Transport World. One of the most unusual is the Toilet Tours. Each bathroom has its own unique theme and you'll probably want to see them all! Step Back in Time showcases Southland's rich history and includes vintage packaging, machinery, songs, clothing, furniture, and much more.
More things to do
The museum and the car collection are only the start of things to do when you stop by for the day. Other highlights include:
LEGO Room. An entire room dedicated to LEGO with thousands of pieces for hands-on building.
Cadbury Chocolate Room. A small-scale version of a Cadbury factory showing how the chocolate is made.
Wearable Art. Functional art used in clothing pieces that are worth a look.
Interactive exhibits. Several interactive exhibits including a display dedicated to the movie Goodbye Pork Pie — complete with the car from the movie!
The Grille
The Grille has fresh food and barista-made coffee with options for everyone. Choose from items in the cabinet or have your meal ready to order. Vegetarian, vegan, and gluten-free options are available. The restaurant is open from 9am to 4pm daily.
Pricing
Regular pricing for Bill Richardson Transport world is $35 for adults and $20 for children, with a special family price of $85 for two adults and up to four children. They also occasionally run specials for events like school holidays with special pricing such as buy one get one free. You can buy tickets here; they recommend booking in advance when possible.
---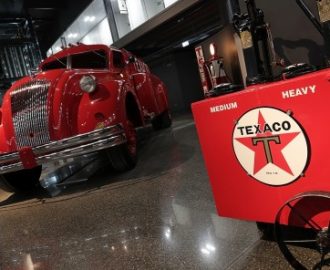 491 Tay Street, Invercargill
Monday - Sunday: 10am - 5pm