E Hayes & Sons
Why we think it's worth a visit
E. Hayes and Sons
A long-time staple of Invercargill, E. Hayes and Sons has been a family-owned and operated business for decades. With the original Ernest Hayes moving to New Zealand in 1882, Hayes was an engineer with an emphasis on agriculture. He invented many revolutionary items such as the Hayes permanent fence strainer that is still used over 100 years later.
More than a hardware store
If you aren't from Invercargill, at first glance E Hayes and Sons might look like your typical hardware store. The centrally-located downtown location has a bit of everything: hardware, camping and outdoor goods, automotive, giftware, and more. The store also has food offerings from a Columbus Coffee cafe. Their slogans "The one-stop shop that's got the lot." and "Where the people come first" are very true for Invercargill residents!
Motorworks Collection
While Bill Richardson Transport World has a larger collection of vintage vehicles, the selection at E Hayes and Sons is nothing to scoff at.
Free to view. The Motorworks collection is a part of the E Hayes and Sons shop. It doesn't have a separate fee for viewing and anyone can visit the exhibits during store hours at no cost.
Burt Munro's 1920 Indian Scout. The legendary vehicle itself is on display in the E Hayes Motorworks Collection. It's the very same one used by Burt Munro himself to set the world record that still stands from over 50 years ago. Make sure to stop by for a look when you're at E Hayes!

Vintage motorcycles, bicycles, and more. There are several vintage and classic vehicles in the Motorworks collection. Some of these include a 1911 New Hudson 500cc, 1975 Triumph Trident T160 750cc Electric Start, 1910 Buick, 1968 McBegg Race Car, 1993 Chevrolet Corvette 40th Anniversary, and more.
d more.
Other things to see
With a one-stop shop and Motorworks collection, there's a lot to see at E Hayes and Son. In addition to the Motorworks Collection, there are several other exhibits to see as well. There are vintage automotive products, engineering machinery, classic office equipment, models, appliances, models, oddities, and other things to see too.
---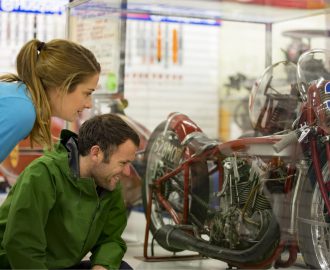 168 Dee Street
M-F: 8-5:30 Saturday: 9-4 Sunday and Holidays: 10-4