Southland Musicians Club
Why we think it's worth a visit
See local music at its finest
Keen to see some local musical talent while you're in Invercargill? One place that showcases local music is the Southland Musician's Club. Founded over 30 years ago, the club offers a social atmosphere for musicians, their supporters and all lovers of music.
While the venue is a place to feature local Southland musicians, talent from all over New Zealand as well as international bands perform at the club. Musicians of all genres have performed for the engaging crowd that shows up to their performances.
The Venue
Southland Musician's Club is a smaller venue but it still has plenty of character. It has fantastic acoustics and specialised equipment so the venue can feature any size band. The professional stage and attendance area make it an excellent fit for both established and experimental bands.
The Southland Musician's Club serves drinks during performances and the venue can hold a few hundred people at capacity. This intimate atmosphere gives the crowd an unmatched opportunity to be up close to their favourite bands.
With each new band that performs, new pictures and posters are added to the wall to showcase some of the fantastic shows that have happened at the venue.
Past Performers
Hundreds of bands have performed at the Southland Musician's Club. Local talent sometimes book out the venue for live performances, but some bigger names have played in the past as well.
Some past performers include:
The Jordan Luck Band
Dan Sharp
Looking for Alaska
Skinny Hobos
The Narcs
James Reid
Greg Johnson
Arun O'Connor
The Chills
Jenny Mitchell
Be sure to check their Facebook page to see upcoming events.
Where to find it
Southland Musicians Club can be a challenge to find the first time you visit. Located in northern Invercargill in the suburb of Prestonville, it is 5-10 minutes outside of the city centre.
To get to the Southland Musicians Club from Invercargill Holiday Park and Motels, follow these steps:
Turn right onto McIvor road from the park.
Follow the road to its end and turn left onto State Highway 6.
Stay on this road until you see the Coupland's building. Turn left on the street immediately after (Preston St), they've recently added a yellow street sign that reads "Southland Musicans Club" on the street.
The Southland Musician's Club is about 100m down this road on your right.
Note that the club does blend in quite well, so make sure to stay alert so that you don't miss it. The venue looks similar to a regular house except that it has a banner on the fence that says Southland Musicians Club.
Parking is free on Preston St so feel free to park anywhere on the road.
---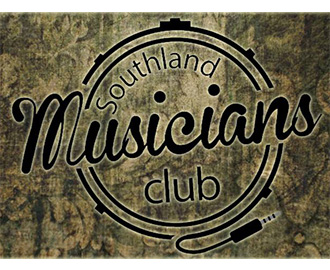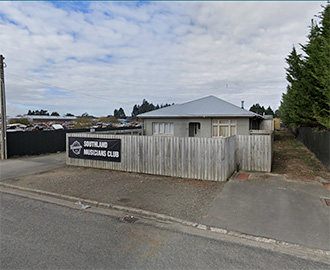 33 Preston St, Prestonville, Invercargill
Varies