Sandy Point Domain
Why we think it's worth a visit
Sandy Point Domain
Sandy Point Domain is a few kilometres west of Invercargill city, close to the Ocean. The majority of the domain is off Sandy Point Road, one of the last roads before reaching Oreti Beach. As one of the largest recreational areas in Invercargill, there's something for everyone including walking trails, picnic areas, playgrounds, and much more.
Walking and Cycling Trails
There are several marked walking trails in Sandy Point, ranging from about 1.25km to over 3.5km. The shortest trail is Petrie's Track. This walk goes through pines and native bush along the shoreline. The trail branches off to the coastal Rover Track for a stroll over 3 kilometres. Daffodil Bay Loop Track is slightly over 3km and goes along the coast including optional detours to other areas such as Noki Kaik Beach and Hatch's Hill lookout. Dogs are allowed on-leash on the walking trails and some other areas as designated.

Along with walking trails, there are also some cycleways with the option for walking or riding a bicycle. There are several car parks in Sandy Point including the Mountain Bike Car Park near the Oreti Walkway/Cycleway.
For more information on the walks at Sandy Point, take a look at the brochure from Invercargill City Council.
Activity Grounds and Clubs
Sandy Point is filled with activity grounds for all kinds of outdoor ventures. Among these are shooting ranges such as the Pistol Range and Archery Range. There is also a clay target range in the domain. For sports, there is both a football ground and rugby field available.
Several clubs meet regularly in Sandy Point for activities. Some of these include:
Birchwood Hunt Club
Invercargill Harriers
Invercargill Kart Club
Southland Astronomical Society
Southland Rodeo Association
Waihopai Rowing Club
Water Ski and Runabout Club
Sandy Point also has frequent events including the Southland Rodeo and Stock Car Races at Riverside Speedway.
Getting to Sandy Point
From our Holiday Park, the easiest way to get to Sandy Point would be following State Highway 6 southwards and turning off Bay Rd. From there turn right unto Dunns RD and cross the river. After the river is where the Sandy Point Domain begins. It covers a large area so it can be helpful to check a map or activity locations from the City Council website to ensure you arrive at the right spot.
---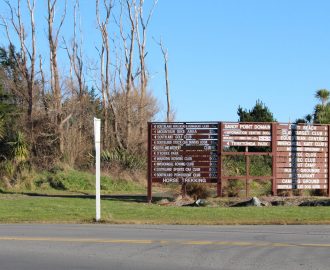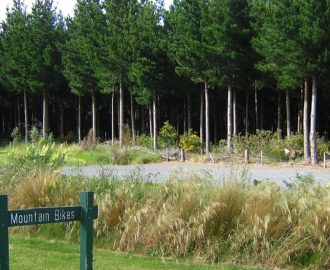 Sandy Point Road, Oreti Beach 9879