Queen's Park
Why we think it's worth a visit
Queen's Park
At nearly the centre of Invercargill is an escape from the busy city life. This 81-hectare park was part of the original city plan and has been a pristine part of nature for over 100 years. With walking trails, play areas, sports activities, exhibits and even wildlife enclosures, there's plenty to do for a day in Queen's Park without ever having to leave the city limits.
Walking Trails
Queen's Park has plenty of room for a good walk. If fitness is your goal, the Fitness Track can get your heart pumping. The track itself is nearly 3.5km long but has several stops along the way. The full track has 20 different stops with suggestions for periods of walking and running as well as several fitness stations. These stations include exercise equipment such as a glider and a giant crank wheel.
There are several other walking trails throughout the park that lead to different stations including the central trail that goes from Feldwick gates past the Rotunda and straight through to the edge of the park.
Play Areas
With such a large park, there is plenty of room to run around. One of the most popular areas is the main playground. It has several different play areas and equipment to keep kids busy. Wonderland Castle is another popular spot. It has a castle theme complete with walls and of course, multiple slides.
Sports Activities
If sport is your game, you have plenty of options in Queen's Park. Some of the sports facilities include:
A full-size tennis court
An 18-hole tree-lined golf course
Cricket field suitable for first-class and one-day matches
Bowling greens
Croquet club
Plus there are plenty of open spaces to simply have a run if you'd like.
Exhibits
There are several exhibits around Queen's Park you can stop at during your visit. Among these are natural botanical attractions such as a Japanese Garden, Duck Pond, Rock Garden, Rose Garden, a showcase of native NZ plants, and more. The Winter Gardens are housed in a dedicated building along with sitting areas and art. Tuatara can be viewed from outside the Southland Museum & Art Gallery; the museum itself is closed but you can still get a peek at the reptiles through the glass.
Wildlife Enclosures
Along with the duck pond that has free-roaming ducks, Queen's Park has two wildlife enclosures. One is the aviary. This includes rare New Zealand birds such as Kea, Weka, Kaka, and Campbell Island Teal. There is also a large exhibit filled with birds from around the country where you can enter and be among them and get a close look if you're lucky!
The other wildlife area is a dedicated section of the park. This wildlife enclosure includes common farm animals like chickens and rabbits of various species. It also has some exotic animals like Kunekune pigs and wallabies.
Parking
Queen's Park has free entry and no cost for exhibits. There are several parking lots around the park; one on Queen's Drive, one at Herbert Street and Queen's Drive, a couple off Kelvin Street, and the main lot with Feldwick Gates is on Gala Street. Each lot has different maximum times, so keep this in mind if you plan on staying for a long afternoon.
---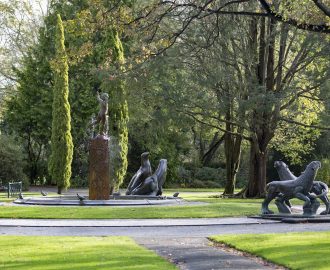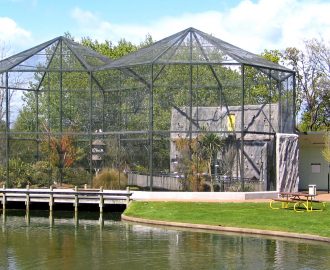 Queen's Park, Invercargill 9810